Remarkable Women of the Roses
Annals Brittanica reveals something of the ambitions and fates of powerful women who influenced the political and dynastic events of the War of the Roses. A more complete survey of their lives is given here and the novels of Philippa Gregory cover some of the same era.
Two French Queens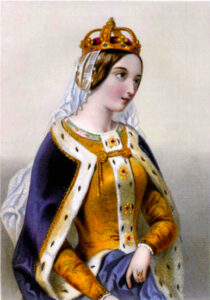 Catherine of Valois (1401-37) was the attractive daughter of the mentally deranged Charles VI of France. Her elder sister Isabella had become Queen of England when she married 30 year old Richard II as a child bride in 1397. The marriage publicly sealed a truce contract in the ongoing 100 Years' War between the two countries. She was nine years old when Richard  was removed from the throne by Henry IV. Henry wanted to marry his own son to the widowed child queen, but she refused and was returned to her father in France where she married her cousin the Duke of Orleans and died in childbirth aged 19 in 1409.
Her sister Catherine was slightly more fortunate.  She was aged eighteen when she was married to King Henry V, famed as the victor at  the battle of Agincourt,  in 1420. She gave birth to his heir Henry the following year and, when both her husband and father died in 1422, she became the dowager queen mother of an infant son who was King Henry VI of England and recognised by the Treaty of Troyes as inheritor of his grandfather's French throne.
About 1428 Queen Catherine was suspected of having an affair with  Edmund Beaufort 2nd Duke of Somerset. He was grandson of  John of Gaunt and Katherine Swynford and a leading Lancastrian supporter of  the royal family.  The rumours caused his opponents, led by the King's uncle and guardian Humphrey Duke of Gloucester, to pass a statute  which stipulated that the remarriage of the dowager queen required the six year old king's permission, without which her new husband's properties would be confiscated.
It appears Catherine had no intention of marrying anyone else from the higher English nobility and  began a relationship with a Welsh gentleman of relatively low birth named Owen Tudor, Although there is no known record of a marriage for the couple. they had two sons - Edmund and Jasper Tudor -  and at least four other children, all half-siblings of the young king Henry VI. Queen Catherine died aged 35 in 1436. Owen Tudor was  then imprisoned by the royal ministers for supposedly infringing the statute concerning the dowager queen's remarriage, until Henry VI released him in 1439.
Catherine reappeared in the world when her grandson Henry VII opened her tomb and had her placed in an open coffin by the tomb of her first husband Henry V. Samuel Pepys recorded that he was allowed to kiss her remains in 1669!
Jacquetta of Luxembourg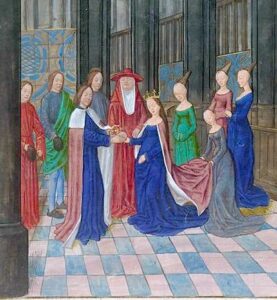 Following the death of Henry V,  his brother John Duke of Bedford, was successfully subduing the remnants of opposition to English rule in France when a peasant girl named Joan of Arc, one of the most remarkable women in history, defeated the English forces at the siege of Orleans. She then led the revived French troops to Reims where the Dauphin was crowned in 1429, which fatally undermined Henry VI's claim to the French throne.  Joan, regarded as an instrument of the devil by the English, was captured and convicted of heresy in an ecclesiastical court. She was burnt at the stake in Rouen in 1431.
The Duke of Bedford lost his wife to plague the next year. He remarried the seventeen year old Jacquetta of Luxembourg, daughter of a French count. The marriage had produced no children when he died in 1435. His chamberlain, a poor  knight named Sir Richard Woodville, escorted her to England. They fell in love and were secretly married, much to the displeasure of the king and senior aristocrats. Jacquetta, being the widow of Henry V's brother and aunt to the King, remained the Duchess of Bedford and outranked all the ladies at court, even the dowager queen Catherine. Woodville and their fourteen children had no special rights, but that did not prevent jealousy and distrust smouldering among senior nobles, who disliked the Woodvilles and their ambitions.
Margaret of Anjou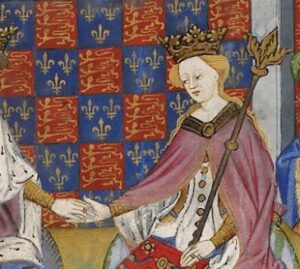 Eventually Henry VI, who had grown into a pious, unworldly man, married another French princess, the fifteen year old Margaret of Anjou in 1445. The marriage was part of an attempted peace agreement between England and France, but alliance to a minor branch of European royalty and the meagre dowry reflected poorly on the diplomatic judgement of Henry's chief advisor William de la Pole Duke of Suffolk. In 1450 Henry was forced to dismiss and banish Suffolk, who was  taken prisoner as he sailed into exile and suffered a mock trial on board ship before he was murdered.
Edmund Beaufort Duke of Somerset was chosen to replace de la Pole. However, he had earned fierce criticism when nearly all English possessions in France were lost during his term as Lieutenant of France in 1449-55. He was involved in a bitter feud with Richard Duke of York, who demanded recognition as King Henry's heir - York's ancestral line from Edward III was widely recognised as senior to the royal family's Lancastrian ancestry. York's hopes of a peaceful inheritance were dashed, however, when Queen Margaret gave birth to a son and heir for Henry in 1453. The birth apparently surprised Henry VI who was suffering a severe mental breakdown at the time and remained in a catatonic state for some months. Insidious rumours  hinted the baby prince was the result of  a  liaison between the queen and Beaufort, on whom she heavily relied to protect the Lancastrian crown for her child.
During the king's illness, affairs of state were put in the hands of a regent called Lord Protector; senior ministers chose to give the post to the Duke of York, much to Queen Margaret's chagrin. The king recovered his wits by Christmas 1454, York was discharged from his duties and Somerset regained his influence at court. York and fellow grandees were now determined to finish off Somerset. They met the royal retinue at the First Battle of St Albans in 1455 and Somerset was hunted down and killed in the ensuing melee. The king was taken into custody and York became the Lord Protector once more. This was the start of the Wars of the Roses.
Henry VI arranged a 'Loveday' to resolve the feud between the Yorkist and Lancastrian supporters, but Queen Margaret was determined to overcome the York threat to her child's inheritance and took command of Lancastrian resistance to York's ambitions. York's ally, Richard Neville Earl of Warwick, captured the king again at the battle of Northampton in 1460, but Margaret's Lancastrian supporters, with Scottish assistance, inflicted a severe defeat on the Yorkists at the battle of Wakefield in December; York himself was killed, as was Warwick's father. The Lancastrians then defeated Warwick at the second battle of St Albans and once more freed the confused king. This was the high water mark of Queen Margaret's war.
Margaret Beaufort and Tudor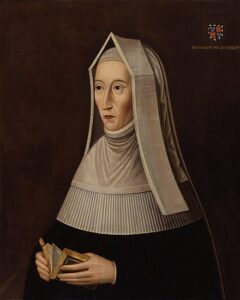 After the death of Edmund Duke of Somerset, the Beaufort cause was tenaciously maintained throughout the Wars of the Roses by Lady Margaret Beaufort (1441/3-1509), the only child of John Beaufort, grandson of John of Gaunt and Katherine Swynford and older brother of Edmund Beaufort; he was Ist Duke of Somerset by an earlier creation and after his death Lady Margaret became the most senior of their line. As an infant she was betrothed to the son Of Henry VI's chief minister William de la Pole  Duke of Suffolk. The marriage was permitted in 1450 but was dissolved three years later following the disgrace and murder of de la Pole senior.
The king then granted wardship of the still juvenile Lady Margaret to his half brothers Edmund and Jasper Tudor, sons of the late dowager queen Catherine of Valois. Margaret aged twelve or fourteen was married on Ist November 1455 to the elder brother Edmund Tudor Earl of Richmond, who was aged 24.  He was taken prisoner by the Yorkists and died in captivity at Carmarthen 3rd November 1456. Margaret gave birth to Henry Tudor, their only child, at Pembroke Castle on 28th January 1457. She was soon married off once more to Sir Henry Stafford, but her infant son remained under the care of his uncle Jasper Tudor Earl of Pembroke. Margaret remained childless following the extremely difficult birth of Henry Tudor.
In 1461 Owen Tudor, widower of Queen Catherine de Valois, and grandfather of the young Henry, was captured at the battle of Mortimer's Cross and executed by Yorkist forces led by Edward the Earl of March, 19 year old son and heir of Richard Duke of York, recently deceased at the battle of Wakefield. Edward then went to London were he was declared King Edward IV before proceeding north  to crush Queen Margaret's forces at the battle of Towton Moor in 1461. Jasper Tudor fled the country and his ward Henry Tudor was put in care of a Yorkist sympathiser. Henry's lands were given to George Duke of Clarence, brother of the new king, but Lady Margaret was still allowed occasional visits to her son.
Queen Elizabeth Woodville
In contrast to the pathetic figure of Henry VI, Edward IV was a tall, active and handsome man who enjoyed a vigorous if somewhat dissipated life. He fell in love with Lady Elizabeth Woodville (1437-1492), widow of a Lancastrian knight Sir John Grey of Groby, killed at the Second Battle of St Albans in 1461, by whom she had two sons. Lady Elizabeth was a daughter of Jacquetta of Luxembourg and her second husband Sir John Woodville. Edward IV married the beautiful widow, who was five years older than him, in 1464. Elizabeth was the first English-born woman since Anglo-Saxon times to be crowned queen.
The king's family and most of the Yorkist grandees were not impressed by Edward's choice of wife. They considered a foreign born royal consort would have helped Edward's shaky hold on the throne, but they also feared that the queen's numerous Woodville relations would seek advancement, wealth and privilege at their expense. Many were willing to believe Elizabeth's mother, Jacquetta of Luxembourg, had helped her snare the king with witchcraft. However, Queen Elizabeth Woodville was a productive queen and produced ten children, including two male heirs, for Edward IV, but the grandees' dissatisfaction with Edward's choice of consort strengthened as the Woodvilles garnered titles and appointments.
Richard Neville Earl of Warwick 'the Kingmaker' and cousin of Edward IV was outraged when his aged and rich aunt the dowager Duchess of Norfolk was married off in 1465 to John Woodville, a stripling brother of the queen. Neville began to conspire with the king's brother  George Duke of Clarence, who shared his hatred of  Elizabeth Woodville and her family. In 1469 they actually seized the king and executed the queen's father who was now titled Lord Rivers and  the aforesaid John Woodville. Charges of witchcraft were made against Jacquetta, but the charges were dropped and she lived to the age of about 56 when she died in 1472.  The king regained his freedom and power and the conspirators fled to France, where they made contact with the exiled Lancastrian Queen Margaret.
The Neville girls
As her poor deranged husband was once more a captive in the Tower of London, Queen Margaret of Anjou was the focus of Lancastrian resistance.  She eventually fled to France with her young son Edward of Lancaster Prince of Wales. She and Richard Earl of Warwick, hatched plans to overthrow Edward IV and reinstate Henry VI on the throne. Warwick's younger daughter Ann Neville was married to the Prince of Wales in order to secure the compact. Her sister Isabel Neville was married to the Duke of Clarence giving the 'Kingmaker' Warwick an interest in the royal succession in each of the York and Lancaster houses.
Warwick returned to England with his powerful army in 1470 and forced King Edward IV to flee. Queen Elizabeth Woodville sought sanctuary in Westminster Abbey where she gave birth to their first son, also named Edward. Parliament was persuaded to disinherit Edward and his heirs because of claims by Warwick and Clarence that the king was not the true son of Richard Duke of York, but the product of the Duchess' liaison with an archer. Henry VI was released and restored once more to the throne, but Warwick the Kingmaker was the real power in the land. Fate lent Edward of York a hand when he received aid from Burgundy, and the duplicitous Duke of Clarence, realising Warwick would not support his own royal pretensions, defected back to his brother's side. Edward returned to England and Warwick was killed in the foggy confusion at the battle of Barnet in March 1471. Twenty days later the king's army routed the forces of Queen Margaret at Tewkesbury, where they was trying to cross the Severn to meet up with Lancastrian supporters from Wales led by Jasper Tudor. Edward the Prince of Wales was put to death and his father Henry VI was quietly done away with in the Tower a short time later. Edward IV was back on the throne with little sign of any further Lancastrian opposition.
Queen Margaret's spirit was finally crushed.  She was ransomed by her cousin King Louis XI of France and lived quietly in France until her death aged 52 in 1482.  Her son's widow, Ann Neville, now joint heir with her sister to their late father's estates, was married to Richard Duke of Gloucester, King Edward's youngest brother in 1472 and they had a son the following year. He and his brother/brother in law George Duke of Clarence became rivals as they set about dividing their wives' enormous  inheritance. However, Clarence's wife Isabel died in 1876 aged 25 and the king thwarted Clarence's ambitious plans to marry the Duchess of Burgundy. Edward IV suspected his brother was intent on taking his crown and in 1478 Clarence was executed. He left a son by Isabel. Edward Earl of Lincoln, who became the last plausible Yorkist claimant to the throne when Henry Tudor came to the throne.  The most powerful figure in the land after the king was Richard Duke of Gloucester.
Edward IV died unexpectedly in April 1483 and was succeeded by his 12 year old son, who was living at the Prince of Wales' residence in Ludlow. Richard  Duke of Gloucester was declared Lord Protector during the minority of the new king Edward V. He met the royal party at as it journeyed to London and arrested the king's uncle Anthony Woodville, the 2nd Lord Rivers and Richard Grey, son of Queen Elizabeth Woodville by her first husband.  They were executed later in June. Gloucester escorted the king on the rest of his journey to the capital, where he was lodged in the Tower. The queen mother, hearing of the arrests of her brother and son, again took refuge in Westminster Abbey with her other children. She was persuaded to allow her second son Richard Duke of York aged 9 to join his brother in the Tower in preparation for the coronation.
A bishop then declared Edward IV had contracted a marriage with another woman prior to his marriage to Elizabeth Woodville and their children were therefore illegitimate. The allegations of witchcraft were also revived and Edward V's claim to the throne was set aside. The Earl of Lincoln's  claim was also set aside because of the attainder of his father, leaving the way clear for the Duke of Gloucester to be crowned King Richard III of England on 6th July. The two princes in the Tower were never seen in public again.
Richard III had a short uneasy reign. A revolt in 1483, led by the Duke of Buckingham and instigated by Lady Margaret Beaufort, fizzled out. Buckingham was executed, but Lady Margaret, whose previous husband had died at the battle of Barnet, was now married to the Lord High Constable Lord Stanley. Richard dared only sequestrate her personal estates into her husband's hands and request him to keep her quiet. The following year Richard and Queen Ann Neville were distracted with grief at the loss of  the young Prince of Wales, their only child.  Queen Ann died in March 1485, leaving Richard with no family support and suspicious of the loyalty of some of his supposed supporters.
Elizabeth of York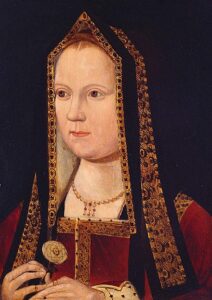 Elizabeth Woodville had been stripped of her queenly rights and title, but left sanctuary in March 1484 after Richard III swore an oath that she and her daughters would not be harmed. She entered into secret discussions with Lady Margaret Beaufort, who was again pressing the cause of her son Henry Tudor as Lancastrian claimant to the throne. The two mothers apparently agreed that, if he succeeded in overthrowing Richard, Henry should marry Princess Elizabeth of York, daughter of Queen Elizabeth Woodville and Edward IV, thus uniting the two feuding houses. The ex queen appeared to be reconciled to the probable demise of the princes in the Tower. There were rumours that Richard III was considering marriage with the Princess Elizabeth, daughter of his brother.
It was time for Henry Tudor to make his move. He landed at Milford Haven in Wales and struck out for London, gathering support along the way. Richard III recognised this was the defining moment to confirm his hold on the throne. The two antagonists met at Bosworth Field in August 1485, the final battle in the Wars of the Roses. The forces of Lord Stanley stood by as York and Lancaster slugged it out. The battle concluded with the despoiled body of the last Yorkist king being dragged to a hasty burial in Leicester and his crown, allegedly found in a hawthorn bush, being placed on the head of Henry VII by his mother's husband Lord Stanley, who was promoted to the Earldom of Derby.
Henry VII duly married Elizabeth of York. Her mother soon retired to Bermondsey monastery, where she led a not entirely secluded life, occasionally visited by Queen Elizabeth and her other daughters.  Queen Elizabeth Woodville died in 1492 and was buried alongside her husband Edward IV in St George's Chapel, Windsor.
The early years of Henry VII's reign were clouded by challenges from two Yorkist imposters Lambert Simnel and Perkin Warbeck. Once taken prisoner they were treated leniently. The life of the one real Yorkist claimant, Edward Earl of Lincoln, was also spared for a time. He was kept in custody in the Tower of London, but was executed in 1499 after he attempted to escape  in company with Perkin Warbeck who was then also put to death.
Henry and Elizabeth founded the Tudor Dynasty of England with four children who survived into adulthood. Arthur, Prince of Wales died in 1502, leaving a single male heir to Henry's throne. Elizabeth tried to provide another male heir but died in February 1503 of post-pregnancy infection on her 37th birthday.  The child, a girl had died soon after birth.
The presiding female at Henry's court, throughout his life was his formidable mother the Lady Margaret Beaufort. She lived apart from her husband and enjoyed her own properties and resources. She and Queen Elizabeth jointly worked on a protocol for the correct upbringing of the royal children. It is likely Margaret was especially involved in preventing her granddaughter Margaret being married to the King of Scotland at too young an age. She remained the king's most intimate councillor after Elizabeth's death. On his death in 1509. Lady Margaret Beaumont made arrangements for the funeral and was chief executrix of his will. Henry VIII's coronation was also organised by his grandmother. She died five days later, having seen the Tudor dynasty secure upon the throne of England.